WARNING: This story contains spoilers.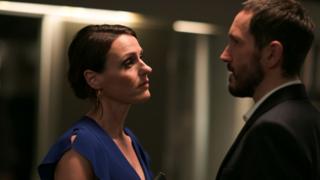 Doctor Foster is back on our screens, two years since the first series – and fans and critics alike seem happy to have her back.
It was the most-watched television programme on Tuesday night, beating Channel 4's Great British Bake Off.
Suranne Jones reprises her role as Gemma Foster, which earned her a Bafta.
The new series sees the GP's cheating ex-husband Simon – played by Bertie Carvel – return to his former home town with his new wife.
The BBC One show drew an average audience of 6.3 million viewers – slightly higher than Bake Off's average of six million viewers. Channel 4's figures include those watching on +1.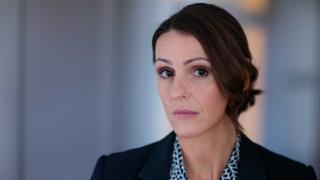 The Independent Sean O'Grady says Jones is in contention for another Bafta and praises Mike Bartlett's "skilfully rendered" script.
He says the set pieces, including a "wedding party debacle" and a "surprise Interflora package" with a rude message were "all done stylishly" and that the title sequence "drew us delicately into this middle class emotional hellhole".
O'Grady has problems with Gemma's nemesis, Kate however.
He writes: "I hate to say it, but Doctor Foster was also a bit compromised by the fact that the older (40 or so) woman is actually at least as attractive, smart and elegant as the younger (25 years old) usurper, Kate, played with well-calibrated naivety by Jodie Comer, who has only chronology on her side."
The Guardian's Lucy Mangan says she was gripped.
"An hour of the five in and I've already had so much fun I can barely type," she writes.
"Simon drives up to the front door in a shiny new car. He smirks more smirkingly than anyone has ever smirked before to find her there, before delivering the most perfect pass-agg speech ever penned (I mentally prostrated myself at the feet of writer Mike Bartlett then and never really rose thereafter)."
Viewers of the show were also quick to take to Twitter.
Many were questioning the loyalty of Gemma's co-worker Ros, who promised not to go to ex-husband Simon's wedding party but was later outed. One fan describes Gemma's colleague Ros as a "snake".
Simon was also at the wrath of social media users – with many describing him in terms too colourful to publish.
And one writes she now hates her ex-husband after watching the show, despite the fact she's never even been married.
---
Follow us on Facebook, on Twitter @BBCNewsEnts, or on Instagram at bbcnewsents. If you have a story suggestion email entertainment.news@bbc.co.uk.
Read more: http://www.bbc.com/news/uk